The city of Chiang Mai itself offers plenty of things to do in the way of cooking classes, temple visits, street food, and culture. But beyond its boundaries, you'll find natural perfection, awe-inspiring animals, and unique communities deep into the mountains. It's a special city with much to offer, and the following are some of the best tourist attractions to explore.
1 Wat Prathat Doi Suthep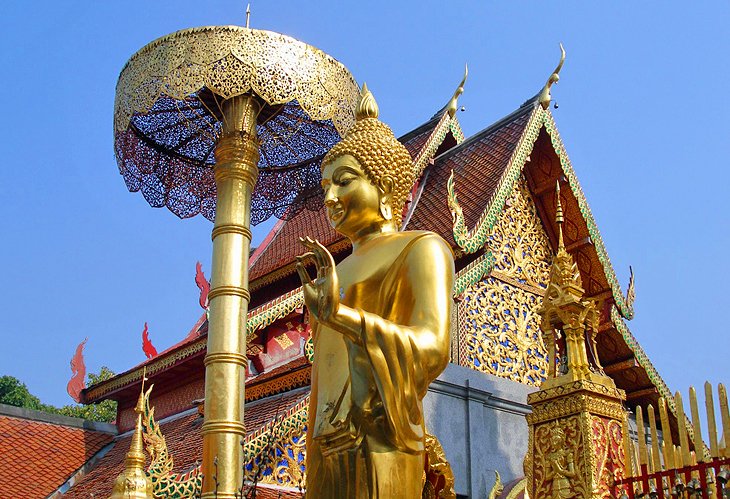 On a clear day (and most of them are clear, unless you're visiting during the rainy or burning seasons), you can look out over the entire city and spot the chedis atop other wats poking out among the clustered buildings. If you're wearing shorts, you will be required to put on a sarong-like wrap to cover your legs. It is advised to cover your shoulders and your legs at least past your knees when visiting any temple. There is a small fee to enter the temple complex.
2 Doi Pui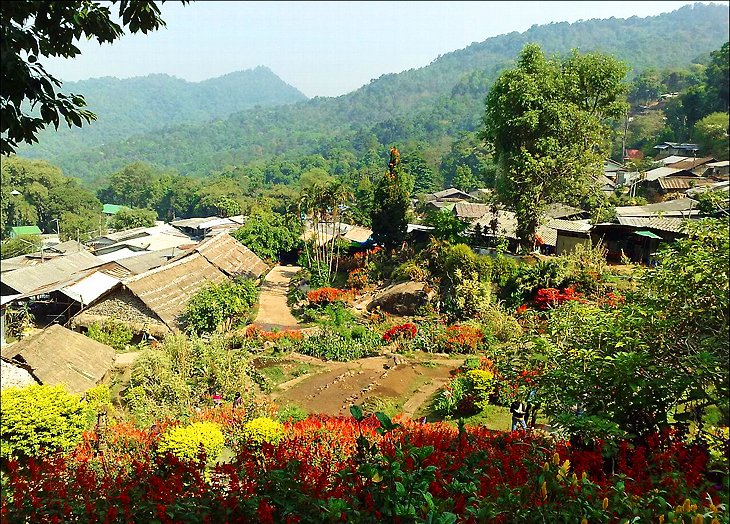 There is a large garden with a diverse array of plants, and the view from the village is breathtaking. Stop for lunch at one of the small restaurants overlooking the greenery below and order a hot bowl of khao soi, Chiang Mai's most famous dish. Add this to your itinerary the same day you visit Doi Suthep, since you only need drive a bit further into the mountains to reach Doi Pui. Enjoy the ride; it's a beautiful one.
---
3 Doi Inthanon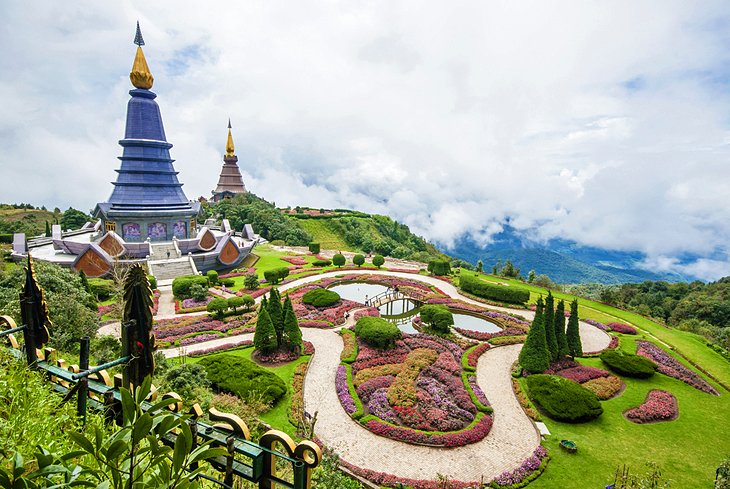 4 Wat Chedi Luang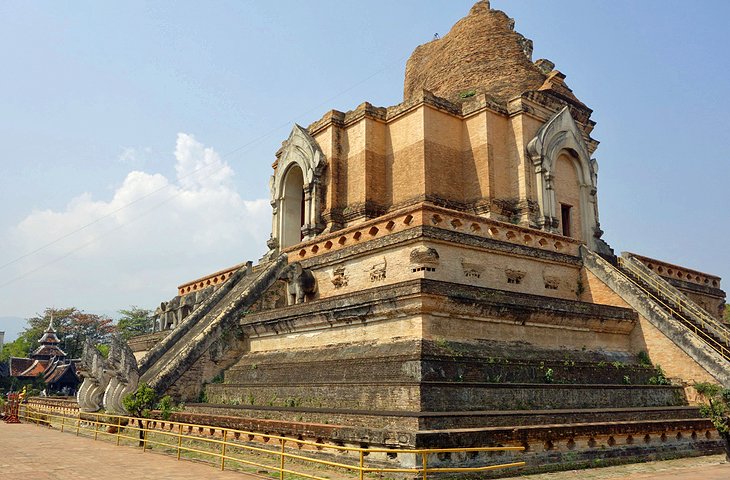 Ruins aren't exactly a rare sight in Chiang Mai, or in Thailand generally, for that matter. But there's something about Wat Chedi Luang that is particularly beautiful and haunting. Constructed in 1401, the imposing structure was damaged during an earthquake in 1545. But it remains remarkable today, and you can still see the massive elephant carvings that adorn it.
Beneath a huge gum tree on the left of the entrance to the precinct stands a delightful little temple, the Lak Muang. Built in 1940 on the site of an earlier wooden building, the shrine is the abode of Chiang Mai's guardian spirit (Lak Muang). According to tradition, if the great tree should fall, disaster will overtake the city. The temple is something to behold at any time of day, but it's particularly lovely at night, when it is all lit up.
---
5 Wat Prasingh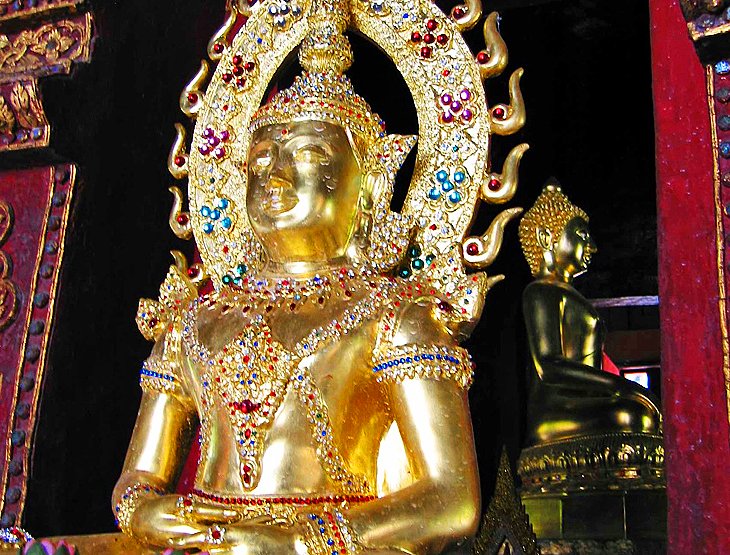 This temple stands at the heart of the Old City, which is where travelers spend much of their time. Amidst the close sois, or alleys, and heavy motorbike traffic, Wat Prasingh rises at the end of Rachadamnoen Road. It is the largest wat in the city, and dates to 1345 when an ancient king built it in his father's honor. The father's ashes are still buried on the grounds – but don't let that spook you from visiting. The decadent structures are impressive, and it's an especially great place to check out on Sundays.
6 Chiang Mai Gate Market
This is the place to find the best street food in Chiang Mai. Every night, vendors set up at the Chiang Mai Gate and sell everything from pad kra pow (spicy meat and basil dish) to the perfect dessert of fresh mango sticky rice topped with coconut milk. Do yourself a favor and order a smoothie from Mrs Pa. Her stand is located directly across from the 7-Eleven and says Pa's Smoothies on the sign. Your best bet is to let her mix up a concoction of her devising; you can never go wrong this way. The market is held seven nights a week, but it's best to go on weeknights since there are fewer vendors on Saturday and Sunday evenings.
---
7 Sunday Walking Street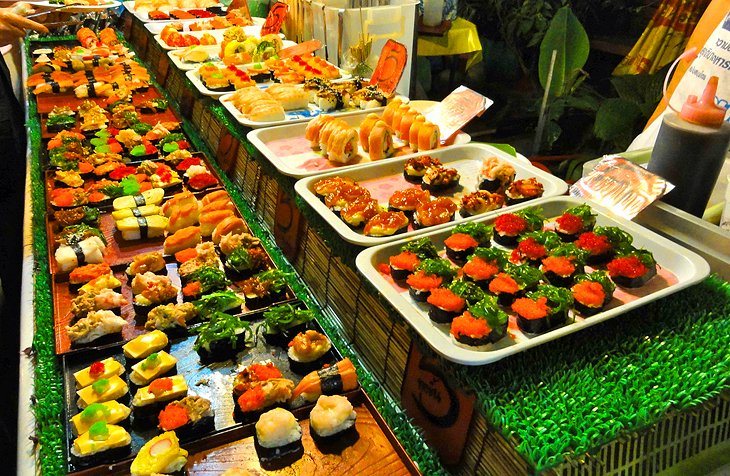 If you're wondering where to get your street grub on during the weekend, fear not. Chiang Mai has a market for every occasion. The Sunday Walking Street is a must for eating and shopping, though go early if you're not one for crowds. The main market thoroughfare is Rachadamnoen Road, which begins just behind Thapae Gate, where you'll find vendors selling handcrafted lamps, dolls, soaps, jewelry, clothes, Christmas ornaments, local handicrafts, and just about every other keepsake you can imagine. As you reach the end of the first block of Rachadamnoen, you'll find yourself flanked by two temples. The courtyards of both are filled with food stalls offering a grand mix of pad Thai, Japanese curry, sushi for 15 cents a piece, samosas, fried bananas, and dumplings. The market stretches the length of the road, and if you're interested in doing any shopping at all, leave yourself several hours to wander, shop, and eat. Also make sure to have your patience readily available as the throngs can make it slow going when it comes to browsing.
The Saturday Walking Street on Wualai Road is a slightly tamer, and slightly less crowded, version of the Sunday market. You'll find it just behind the Chiang Mai Gate, and it's a great place to pick up hand-woven clothing, pillow covers, purses, wallets and other items sold by members of local hill tribe communities.
---
8 Night Bazaar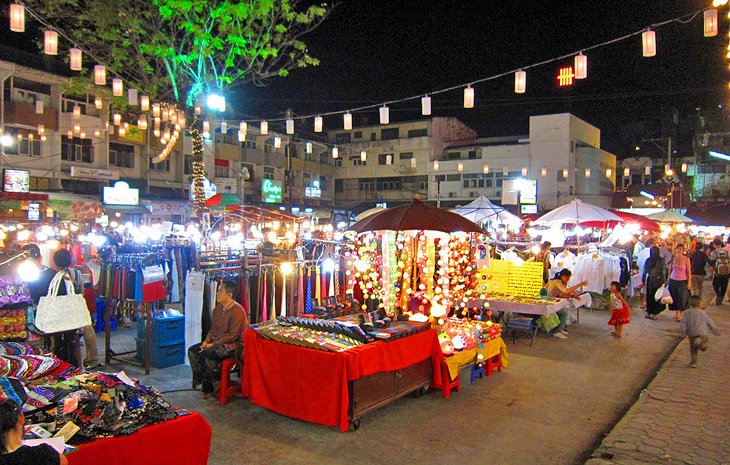 9 Documentary Arts Asia
Beautiful and relaxing as Chiang Mai is, it also attracts many humanitarians focused on the plight of refugees from Burma and the marginalized hill tribe communities. Documentary Arts Asia is a gallery space that holds regular documentary and Asian film screenings and events related to the political and humanitarian situations throughout Asia. They have a library that is open to the public for browsing and continually rotate photographic exhibits at the gallery. It's an excellent place to learn more about the historical and political contexts of Thailand and the rest of the region.
10 Elephant Nature Park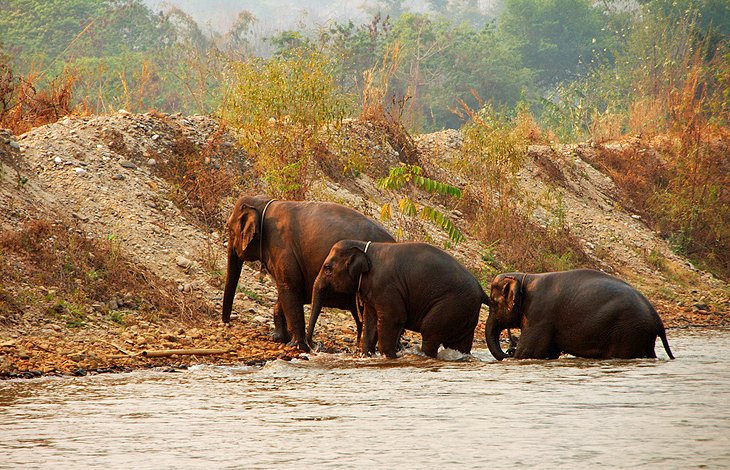 A day spent here is an eye-opening experience, as you both get to spend time up close with the elephants and learn about their plight. The cost of volunteering includes transportation and lunch, and the money goes toward maintaining the grounds and providing for the animals. Be sure to book in advance, as the volunteer spots do fill up ahead of time.
---
You can also visit the Tourism Thailand Website for more information
source: PlanetWare